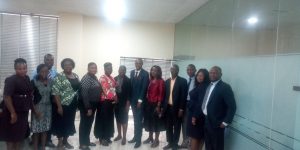 RCE Ogun's 2nd Participation at the 10th African Regional RCE Conference
RCE Ogun participated at the 10th African Regional RCE Conference, which was hosted by the Regional Centre of Expertise (RCE), Minna, on 1st (Stream One) and 15th (Stream Two) of September, 2020. The theme of the 10th African Regional RCE Conference was 'Community-Based Resilience during Pandemic Disruption: The role of African RCEs'
The Conference was officially declared openned by Prof. Akpezi Ogbuigwe, RCE Regional Adviser for Africa. Other high profile dignitaries at the event include: Dr. Amina Sani Bello, Wife of the Executive Governor of Niger State, RCE Regional Adviser for Africa; Mohamed Atani, Head of regional communication and information, UNEP regional office for Africa; Mal. Nurudeen Lemu Director, Research and training Da'awah institute of Nigeria (DIN); Ms Kiyoka Miki Director,Office of environmental education, general policy division, Ministry secretariat , Ministry of the Environment , Japan; Ms Won Jung Byum; Mr Andrew Chimphondah, MD Shelter Afrique , Dr Remy Sietchiping, Prof Musabau Akanji; Prof Lawrence Ezemonye; Prof. GN Nsofor; Dr. Abdul Hussaini; Prof Charles Hopkins, among others.
The focus of the Conference centred on the need for community-based actions because everyone is born into our communities. Resilience is the identified new normal and it is about getting things done; In the face of the Pandemic (COVID-19), it appears that RCEs are built for a time as this because RCEs are Hubs of action- promoting knowledge and sustainable development in the context of local community and align with national priorities, the conference submits.
The need to connect with a view to transform Africa and contribute to Global peace "Global networking of local networks" was emphasised. Also, the goal for driving sustainable development with the need to build multi-stakeholder and interdisciplinary action was part of the highlights that stemmed from the presentation made by RCE Ogun at the event. The presentation was titled 'Multi-stakeholder collaborations in Building Community Resilience towards Pandemic Management'.
Apart from the Chair (Prof. Evans Osabuohien  see) & Co-Chair (Dr. Abiola Babajide see), other members of RCE Ogun who attended the virtual conference include: Prof. Chinonye Love Moses, Dr. Omotayo Adegbuyi, Engr Adeyemi Gideon Adewale, Dr. Patience Tunji-Olayeni, Dr. Ngozi Adeleye, Aderonke Asaolu, Caroline Adanna Adeboye, Dr. Afolasade Oluwatobi, Dr. Felicia Olokoyo, Ademola Andrew Onabote, Afokoghene Rowland Okoro, Niyi Olagunju, Doris Marian Akinpelumi (Centre Officer of RCE Ogun).
It would be recalled that RCE Ogun made her debut appearance at the 9th African Regional RCE Meeting, which held at the University of Eswatini, Luyengo Campus, Eswatini (former Swaziland), between 5th and 7th of August, 2019. See details here.